https://www.pollardbanknote.com/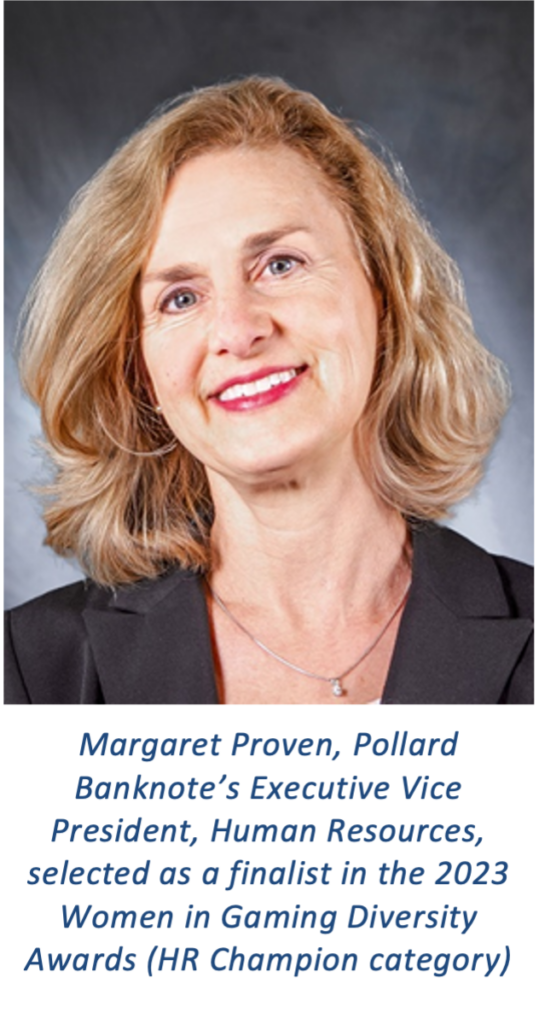 WINNIPEG, Manitoba, May 24, 2023 /CNW/ – Pollard Banknote Limited ("Pollard Banknote"; TSX: PBL) is proud to announce that Margaret Proven, Executive Vice President, Human Resources, has been selected as a finalist in the 2023 Women in Gaming (WiG) Diversity & Employee Wellbeing Awards in the HR Champion category. These awards showcase the gaming industry's commitment to promoting equality, diversity, and inclusion by honoring individuals and organizations that have shown exceptional dedication in achieving these goals.
Margaret's selection as an HR Champion finalist is a result of the prominent role she has played in leading the development, strategy, and implementation of integrated HR programs consistent with Pollard Banknote's mission and values. With an unwavering commitment to diversity and inclusion, she takes pride in building and coaching teams that not only drive performance but also cultivate an intuitive and productive workplace.
Margaret is actively involved in developing strategies and programs to achieve the company's diversity and inclusion objectives, and she is skillfully supported in these efforts by a diverse team of HR professionals. Since joining Pollard Banknote in 2020, the company has made extraordinary strides under her leadership; for example, becoming a partner employer with the Canadian Centre for Diversity and Inclusion.
Under Margaret's direction, the company also established a Diversity Advisory Committee, a diverse group of employees and leaders from across our Canadian operations who serve as an internal advisory group helping to define the company's priorities and actions as it continues to foster a more inclusive workplace and culture.
Margaret was also instrumental in Pollard Banknote's recognition as one of Manitoba's Top Employers for 2023. Organized by Mediacorp Canada Inc., this annual competition celebrates employers with progressive and forward-thinking programs. The award is a testament to Pollard Banknote's ongoing efforts to provide a safe, healthy, and positive working environment for employees and for its continued obligations to local communities. These efforts are multidimensional and include HR best practices aimed at enhancing the employee experience, boosting morale across the company, and aiding in the recruitment and retention of diverse top-quality talent.
"Margaret's leadership on diversity, equity, and inclusion within our human resources strategy and throughout the company has helped raise our profile worldwide and evolve Pollard Banknote's existing diversity and inclusion practices," said Doug Pollard, Co-Chief Executive Officer, Pollard Banknote. "We thrive as a company because the dedication, passion, and expertise of the people who work here is unrivaled."
The winner in the HR Champion category, along with over 20 other categories, will be announced on June 8, 2023, at an awards event hosted at the Savoy Hotel in London, England.
About Pollard Banknote
Pollard Banknote is a leading lottery partner to more than 60 lotteries worldwide, providing high-quality instant ticket products, licensed games, in-lane ticket options, and sales-driving merchandising solutions from its Schafer Retail Solutions + portfolio. It also offers a full suite of digital offerings, ranging from world-class game apps to comprehensive player engagement and iLottery solutions, including strategic marketing and management services. The company is a proven innovator and has decades of experience helping lotteries to maximize player engagement, sales, and proceeds for good causes. Pollard Banknote also provides pull-tab tickets, bingo paper, ticket vending machines, and its Diamond Game and Compliant Gaming electronic games and devices to charitable and other gaming markets in North America.  Established in 1907, Pollard Banknote is owned approximately 64.3% by the Pollard family and 35.7% by public shareholders, and is publicly traded on the Toronto Stock Exchange (TSX: PBL). For more information, please visit our website at www.pollardbanknote.com.
Forward-looking Statements
Certain statements in this press release may constitute "forward-looking" statements and information, which involve known and unknown risks, uncertainties, and other factors that may cause actual results, performance, or achievements to be materially different from any future results, performance, or achievements expressed or implied by such forward-looking statements. When used in this document, such statements include such words as "may," "will," "expect," "believe," "plan," and other similar terminology. These statements reflect management's current expectations regarding future events and operating performance and speak only as of the date of this document. There should not be an expectation that such information will in all circumstances be updated, supplemented, or revised whether as a result of new information, changing circumstances, future events, or otherwise.
-30-
FOR MORE INFORMATION CONTACT:
Doug Pollard
Co-Chief Executive Officer        
E-mail: This email address is being protected from spambots. You need JavaScript enabled to view it.
John Pollard
Co-Chief Executive Officer        
E-mail: This email address is being protected from spambots. You need JavaScript enabled to view it.
Rob Rose
Chief Financial Officer        
E-mail: This email address is being protected from spambots. You need JavaScript enabled to view it.