Investment Thesis
Meta Platforms, Inc. (FB) was rebranded as Meta Platforms, Inc. on 28 October as Mark Zuckerberg & Co. looks to the metaverse as the company's next transformative phase of growth. The company also reported solid results in FQ3 despite the continued impact of Apple's (AAPL) IDFA changes. We think these advertising headwinds are transitory and not structural. Moreover, the company has telegraphed that it will work around these issues over time. Additionally, the metaverse is the company's long-term solution to design their operating system in lieu of the mobile internet. It's Meta's answer to the dominance of iOS, and Android (GOOGL) (GOOG) as the company charts its path towards an exciting future.
Roblox (RBLX) aims to create its metaverse for "human co-experience," powered by user-generated content (UGC). Tencent (OTCPK:TCEHY) also acknowledged Roblox's metaverse ambitions, as chief strategy officer James Mitchell added:
Now I wouldn't say that Metaverse is a genre. Metaverse is more of an overarching opportunity in which different kinds of games are played within a single sort of social graph and software suite. So if you look at Roblox, then Roblox is arguably a Metaverse for younger gamers. (from Tencent FQ1'21 earnings call)
We discuss which of these metaverse stocks investors should buy to gain exposure to the massive metaverse opportunity that is still in the early innings of their development.
FB Vs. RBLX Stock YTD Performance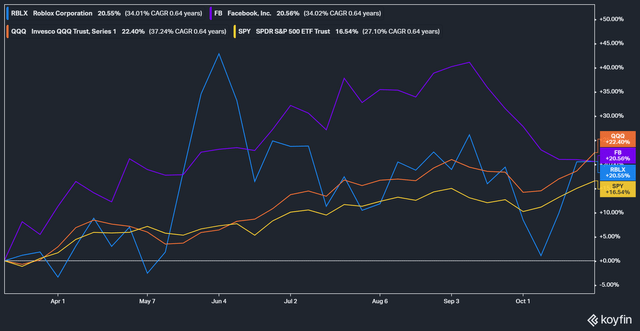 FB Vs. RBLX stock YTD performance (as of 29 October 21).
We will discuss their YTD performances from 10 March onwards, as Roblox stock was listed on that day. Roblox stock had a blazing start from its March IPO as it raced to a YTD gain of almost 45% by June. However, its momentum quickly fizzled out. Its gains were almost completely wiped out at the recent September/October retracement. However, it has made a remarkable recovery with a YTD gain of 20.6%.
Incidentally, Meta stock's YTD gain (from 10 March) was also at 20.6% as of 29 October. Notably, its stock had maintained an excellent start to 2021, which got stronger as the year carried on. It achieved more than 40% YTD gain before it lost its momentum at the recent retracement. The weakness that affected social media stocks also impacted its stock price. Consequently, FB stock's YTD gain plummeted from its high for the year. At the moment, both stocks still lead the SPDR S&P 500 ETF (SPY). Moreover, they are just slightly behind the Invesco QQQ ETF's (QQQ) 22.4% YTD return.
Meta is Transforming Itself by Building its Metaverse Opportunity
Meta recognizes the immense market opportunity in the metaverse. Zuckerberg emphasized Meta's goal is to "help the metaverse reach 1 billion people and hundreds of billions of dollars of digital commerce a day." While it's hard to put a number to the opportunity now, The Information prognosticate that the metaverse would be worth $82B by 2025. That would be just slightly less than the $86B FB earned in revenue in FY20.
The Information believes that the current metaverse opportunity is still very much in its infancy. Gaming platforms such as Roblox and Epic Games are the pioneers in offering "metaverse-like" experiences through gaming. Meta believes that it would extend those applications beyond the "gaming metaverse" to a whole host of consumers and corporate applications in the physical and virtual world.
Nevertheless, gaming is the fundamental starting point for the metaverse story to play out over time. Even FB also embraces it through Oculus, and now extended through Project Cambria. Meta recognizes that it needs to build the next computing platform to compete effectively with iOS and Android. These platforms will get more entrenched with the proliferation of the mobile internet. However, Meta believes that its metaverse project will help propel a leap over the limitations of these platforms.
Interoperability will be critical. It remains to be seen how FB will be able to do that. However, the company also recognizes that it will be fundamental to the success of its transformative project.
Mark Zuckerberg telegraphed that the metaverse had been on his mind even before he started Meta. Meta has also been investing in this project since 2014 with the Oculus acquisition. IDC also added:
[Meta] has already invested more heavily in the field than many people realize. [The metaverse project is key to] diversify future revenue streams, cement its position in the next computing platform, and potentially rewrite its company narrative going forward. (from Bloomberg article)
Between Roblox and Meta, Who Can Build The Next Computing Platform?
It will be costly and tremendously challenging to execute. Meta recognizes it, but we think they already have a highly profitable business to sustain its ambitious foray into the metaverse.
The company has highlighted that it would be investing substantially to build its metaverse infrastructure moving forward. As a result, the company expects a reduction of $10B in FY21 operating profit. Moreover, Meta guided that FY22 CapEx is estimated in the range of $29B to $34B. It is a significant increase from FY21's estimate of $19B.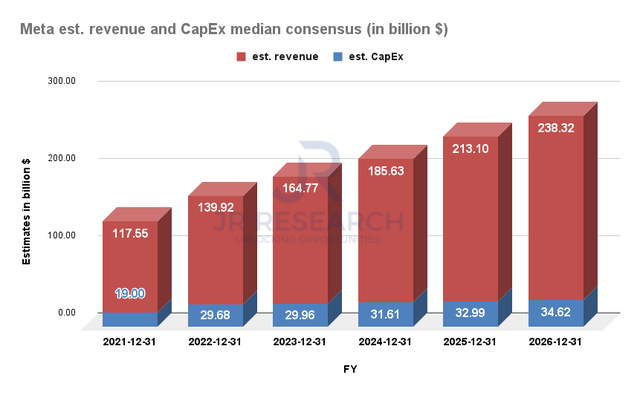 Meta est. revenue and CapEx median consensus. Data source: S&P Capital IQ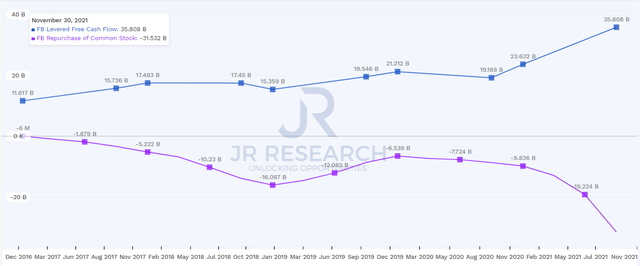 Meta LTM levered free cash flow and stock repurchase. Data source: S&P Capital IQ
Despite the heavy investments necessary, we think FB is exceptionally well-positioned to undertake these challenges. Whether they can succeed is another matter. However, the company has a very healthy profitability profile to pursue its highly ambitious metaverse project.
The company's core advertising platforms are still expected to be highly lucrative revenue and profit drivers. These estimates have not included the potential revenue that's attributed to the metaverse opportunity. At the moment, its revenue is estimated to increase at a CAGR of 18.5% by FY26. In a recent Trade Desk (TTD) article, we highlighted that the digital advertising market is still expected to grow rapidly. Worldwide spending is expected to reach $645.8B by 2024, representing a CAGR of 14%. Moreover, FB's global share is also expected to increase from 22.3% in 2020 to 25.2% by 2023.
Moreover, Meta's business generated so much free cash flow (FCF) that it even committed to a new $50B stock repurchase program. Despite the transitory headwinds Meta is facing due to the IDFA changes, it generated an LTM FCF of $35.81B. Its LTM stock repurchase also reached $31.5B. We think these incredible numbers are a testament to FB's credible ambitions to create the next computing platform. They have also communicated their intention to recruit 10K engineers in Europe to jumpstart its push.
Tencent also has ambitions on building its metaverse. However, it also recognizes that it's a "longer-term rather than an immediate opportunity." Moreover, it also acknowledges that existing social networks can also realize metaverse ambitions. Notably, it added:
We believe that we're one of really a handful of companies globally that have all of those capabilities in terms of the social network expertise, in terms of the experience managing online games, and in terms of the ability to take real-world assets and digitize them for Metaverse purposes. (from Tencent FQ2 earnings call)
Hence, even Tencent emphasized that only "a handful of companies" have the necessary capabilities to build a true metaverse. It's beyond just metaverse-like experiences. We think Meta certainly is one of these companies with the essential capabilities and resources.
How about Roblox? Roblox is a leading mobile gaming leader among iOS users. Based on Sensor Tower Q3 statistics, Roblox was ranked third worldwide in terms of downloads on the App Store. Roblox and Fortnite are the leading metaverse-like gaming platforms. Roblox's well-diversified UGC platform is more prevalent among children, while Fortnite focuses on the battle-royale shooter genre. In addition, Roblox's focus on immersive experiences has brought tremendous success.
Roblox's popularity as a gaming metaverse has been well recognized. It's why the stock trades at a much higher premium than the rest of its gaming peers, such as Electronic Arts (EA) or Activision (ATVI). It has also grown its user base rapidly. Its daily active users (DAU) increased from just 17.1M in FQ2'19 to 43.2M in FQ2'21, representing a phenomenal CAGR of 58.9%. However, there are concerns over slowing user growth, as DAU increased by just 2.6% QoQ.
However, the company's August update put to bed those concerns. Roblox reported that its DAU was up 32% YoY in August as it reached 48.2M. It was also 3.4% higher than July's 46.6M DAU. We remain confident that Roblox's recent update underpins the strength of its popularity. Therefore, we are satisfied that the platform's growth is still in its early innings.
Its successful adaptation of Netflix's (NFLX) highly successful South Korean series, Squid Game, has also been well received. Even though its gameplay looks simple, it seems to be a huge hit. One user even commented:
I used to think Roblox was a game reserved for children who have yet to see the greatness of Minecraft. But after dipping my toes into the world of this free-to-play universe and how simple yet fun it can be, I now know why people are hooked. Couple that with the trending Squid Game sensation and you've got a recipe for a viral hit. (from The Smart Local article)
We think Roblox has a highly robust creator universe. It's one of the critical competencies of the Roblox platform. Therefore, it bodes well for the company's gaming metaverse mission. Notwithstanding, we are not sure whether Roblox has the capability and resources to create the true metaverse. Unity even called the metaverse a "revolution." It emphasized: "The metaverse is going to be the biggest revolution in computing platforms the world has seen-bigger than the mobile revolution, bigger than the web revolution."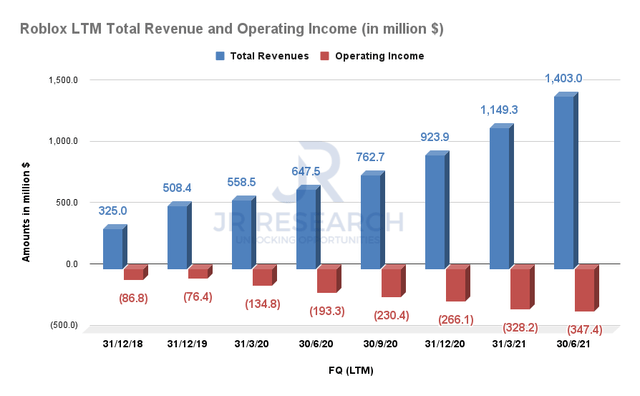 Roblox LTM revenue and operating income. Data source: S&P Capital IQ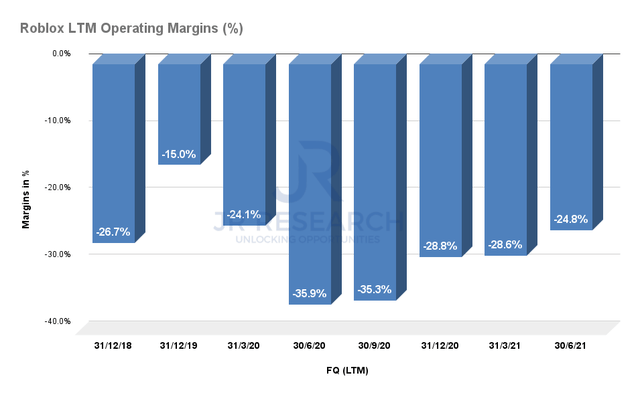 Roblox LTM operating margin. Data source: S&P Capital IQ
Roblox has been growing its revenue rapidly. Its revenue grew 116% YoY in FQ2'21. However, its operating margin remained mired in the red. Operating leverage has been elusive for the company despite its phenomenal revenue growth. As of FQ2'21, Roblox reported an LTM operating margin of -24.8%.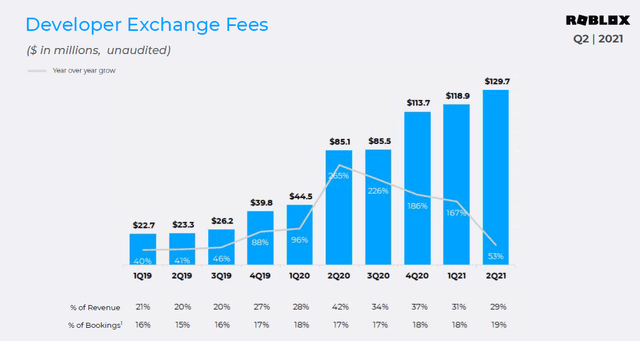 Roblox developer exchange fees. Source: Roblox company filings
Roblox pays a substantial portion of its revenue to its developers. It makes sense since Roblox is a UGC platform. However, it has also hindered the company's ability to turn an operating profit. Moreover, its share of total revenue remains at a high amount. In FQ2'21, its share of total revenue was 29%.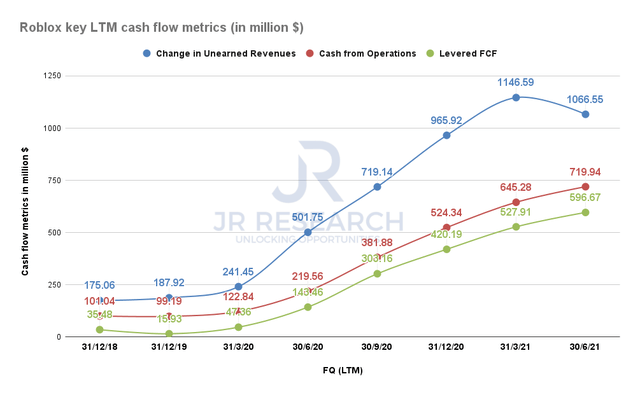 Roblox key LTM cash flow metrics. Data source: S&P Capital IQ
In our previous Roblox article in June, we highlighted that even though Roblox is FCF profitable, it is mainly dependent on its growth in deferred revenue. Despite posting operating losses, its robust growth in deferred revenue has kept Roblox FCF profitable. However, we also emphasized that: "This necessitates the company to keep growing its bookings rapidly to offset the huge operating expenses in order keep it FCF positive."
It meant that Roblox would need to keep maintaining its gangbusters growth in its bookings to sustain its higher developer fees. However, we saw a noticeable dip in FQ2 on its LTM change in deferred revenue. RBLX reported an LTM change in deferred revenue of $1.07B, a marked decline from FQ1's $1.15B. It demonstrated that Roblox seems to be experiencing a probable deceleration in bookings growth.
Bookings' growth is integral to the health of its FCF growth for Roblox. We can easily observe from the trend of its cash from operations and FCF. Therefore, a slowdown in bookings growth must be carefully monitored moving forward.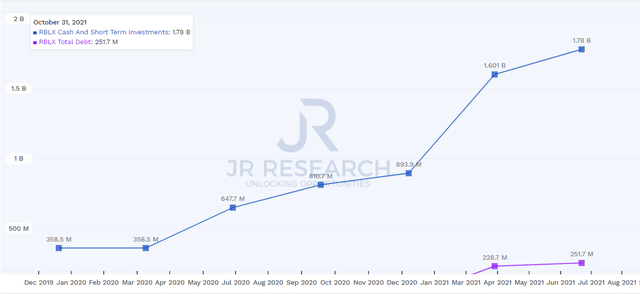 Roblox LTM cash & short-term investments, and total debt. Data source: S&P Capital IQ
We can also easily observe that Roblox cannot undertake the scale of FB's massive undertakings to build the next computing platform. Despite a solid net cash balance, it's still EBIT unprofitable. Moreover, its FCF health is underpinned by the assumption of continued robust growth in bookings. In contrast, Meta already boasts of a highly profitable business model. It's also generating a considerable amount of FCF. Moreover, it operates a wide-moat business model and is expected to strengthen its clout further in the digital advertising market.
Therefore, we think there's little doubt that Meta is much better primed to take on the challenge of building out the true metaverse. It would be interesting to see how FB's metaverse would be differentiated against Roblox. Perhaps, both platforms could be interoperable in the future. Meta can't do this alone. If they want to overturn the dominance of AAPL and GOOGL in mobile internet, they would need participation from other companies and developers.
Meta (NASDAQ:FB) Vs. Roblox Stock Valuation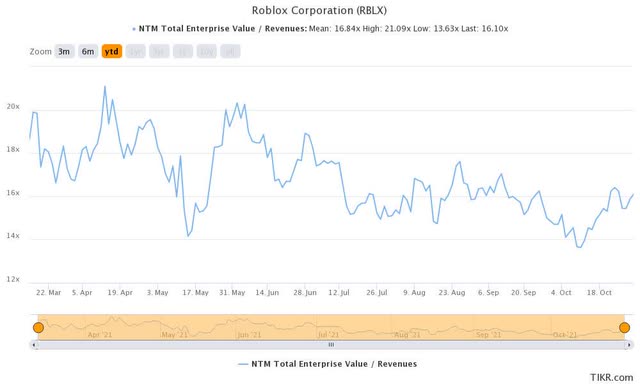 Roblox EV/NTM Revenue.

FB EV/NTM Revenue and EV/NTM EBIT 3Y mean.
Meta stock currently trades at an EV/NTM revenue of 6.5x, while its 3Y revenue multiple mean is 6.9x. Moreover, it's trading at an EV/NTM EBIT of 18.6x, while its 3Y EBIT multiple mean is 18.9x. Therefore, one can argue that Meta stock looks reasonably valued right now.
In contrast, RBLX trades at a much higher EV/NTM Revenue of 16.1x. Hence, we think there's a considerable amount of growth premium embedded into Roblox stock's price.
As such, we think FB stock represents the better metaverse stock buy for now. Therefore, we rate FB stock at Buy, and we retain our Neutral rating on RBLX stock.
https://www.onenewspage.com/n/Markets/1zn43zsz8z/Meta-Vs-Roblox-The-Battle-Of-The-Metaverse.htm