Pollard Banknote Congratulates BCLC On The Launch Of Canada's First JAWS Instant Game
WINNIPEG, Manitoba, July 6, 2023 /CNW/ – Pollard Banknote Limited ("Pollard Banknote"; TSX: PBL) congratulates the British Columbia Lottery Corporation ("BCLC") on the launch of Canada's first Scratch & Win instant ticket based on JAWS, the original summer blockbuster from Universal Pictures and Amblin Entertainment. This brand-new $5 game invites players to relive all the excitement of the Academy Award-winning movie in an entertaining new way. In its first three weeks on the market, the game has achieved sales of more than $1.6 million.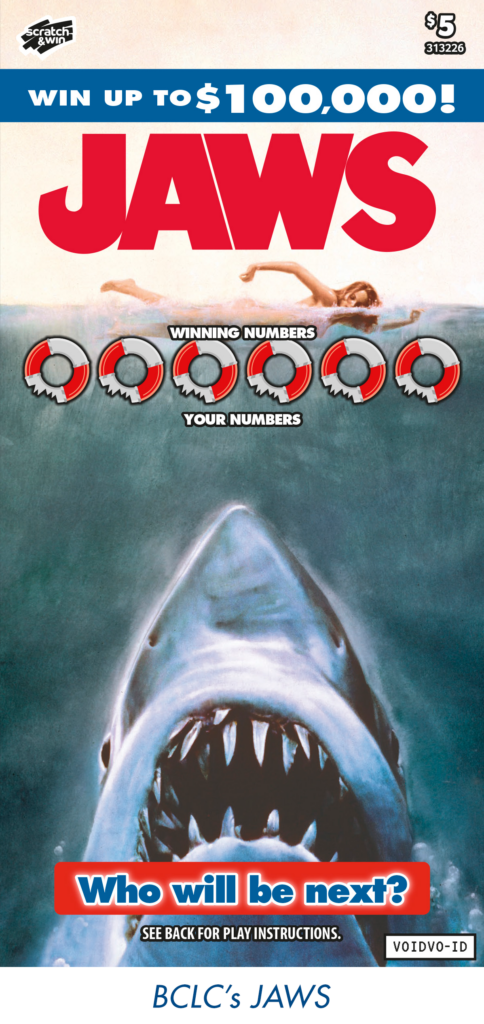 This summer marks 48 years since JAWSpremiered in theatres. BCLC's ticket, designed by Pollard Banknote, pays homage to the memorable movie poster, featuring iconic imagery that commands attention at retail. With a top prize of $100,000, the suspense of revealing the winning numbers is matched only by the suspense of waiting for the killer shark to appear onscreen.
The game is supported by a multifaceted marketing campaign produced by Pollard Banknote, which includes extensive social media support, digital terminal signage, and additional merchandise prizing, all leveraging the nostalgic visual assets of the original blockbuster.
"It's safe to say this ticket has made a big splash with players," said Shirley Park, Senior Product Specialist, BCLC. "This fun addition to our Scratch & Win portfolio is a hit with our players, conjuring up nostalgia for an iconic summer blockbuster movie."
"We congratulate BCLC on the successful launch of Canada's first Scratch & Win instant ticket based on JAWS," said Brad Thompson, Vice President, Sales & Marketing, Pollard Banknote. "Our licensed games portfolio continues to grow with the addition of compelling new properties that we know will make great games. Thanks to BCLC's player-first approach to its Scratch & Win portfolio, we've got another summer blockbuster on our hands!"
BCLC exists to generate win-wins for the greater good, and has delivered more than $28 billion in net income to the Province of B.C. to support communities, provincial programs and services, charities and major events that have helped shape B.C. 
JAWS© Universal City Studios LLC and Amblin Entertainment. All Rights Reserved.
About Pollard Banknote
Pollard Banknote is a leading lottery partner to more than 60 lotteries worldwide, providing high-quality instant ticket products, licensed games, in-lane ticket options, and sales-driving merchandising solutions from its Schafer Retail Solutions + portfolio. It also offers a full suite of digital offerings, ranging from world-class game apps to comprehensive player engagement and iLottery solutions, including strategic marketing and management services. The company is a proven innovator and has decades of experience helping lotteries to maximize player engagement, sales, and proceeds for good causes. Pollard Banknote also provides pull-tab tickets, bingo paper, ticket vending machines, and its Diamond Game and Compliant Gaming electronic games and devices to charitable and other gaming markets in North America. Established in 1907, Pollard Banknote is owned approximately 64.3% by the Pollard family and 35.7% by public shareholders, and is publicly traded on the Toronto Stock Exchange (TSX: PBL). For more information, please visit our website at www.pollardbanknote.com.
Forward-looking Statements
Certain statements in this press release may constitute "forward-looking" statements and information, which involve known and unknown risks, uncertainties, and other factors that may cause actual results, performance, or achievements to be materially different from any future results, performance, or achievements expressed or implied by such forward-looking statements. When used in this document, such statements include such words as "may," "will," "expect," "believe," "plan," and other similar terminology. These statements reflect management's current expectations regarding future events and operating performance and speak only as of the date of this document. There should not be an expectation that such information will in all circumstances be updated, supplemented, or revised whether as a result of new information, changing circumstances, future events, or otherwise.
-30-
FOR MORE INFORMATION CONTACT:
Brad Thompson
Vice President, Sales & Marketing        
E-mail: This email address is being protected from spambots. You need JavaScript enabled to view it.
Pollard Banknote Limited
Telephone: (204) 474-2323