RFP: REVISED: PLEASE NOTE CORRECTION IN SUBMISSION DUE DATE… Minnesota Lottery Scratch Game Ticket Printing and Related services
REVISED: PLEASE NOTE CORRECTION IN SUBMISSION DUE DATE… please note that submissions are due at 2:00 p.m. CT on March 11 9th
To facilitate electronic submission of the responses to the Scratch Ticket Printing RFP, the Minnesota Lottery will be giving vendors the option to use Microsoft OneDrive to upload files.
 If you are interested in submitting electronically using OneDrive, please reply all to this e-mail with a single e-mail address that will be given access. We will send that e-mail address a link where documents can be uploaded. Please follow up with an email if you haven't received a link by the end of the week. Additionally, once you've submitted via OneDrive follow up with an email. Submissions via OneDrive must be less than 5 GB's.
 If you do not wish to use OneDrive, please plan on including a USB drive with all electronic documents with your paper submission. Please note that submissions are due at 2:00 p.m. CT on March 11 9th
If you have any questions, please reply all and let us know. 
Benjamin P. Freedland (he/him/his)
GENERAL COUNSEL
Office: 651-635-8213 | Cell: 612-246-9536
2645 Long Lake Road, Roseville, MN 55113
We have submitted 'Addendum 1 to the RFP – Submission Location for Questions'.
This addendum can be located on the Minnesota Lottery website under Vendor Opportunities or follow this link: https://www.mnlottery.com/vendor-opportunities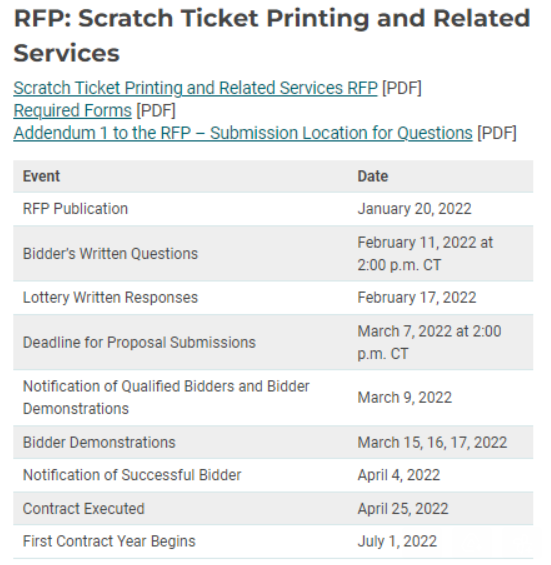 Thank you,
Pam
Pamela Mogensen
PURCHASING/RETAIL CONTRACTS MANAGER
651-635-8102 | This email address is being protected from spambots. You need JavaScript enabled to view it.
2645 Long Lake Road, Roseville, MN 55113